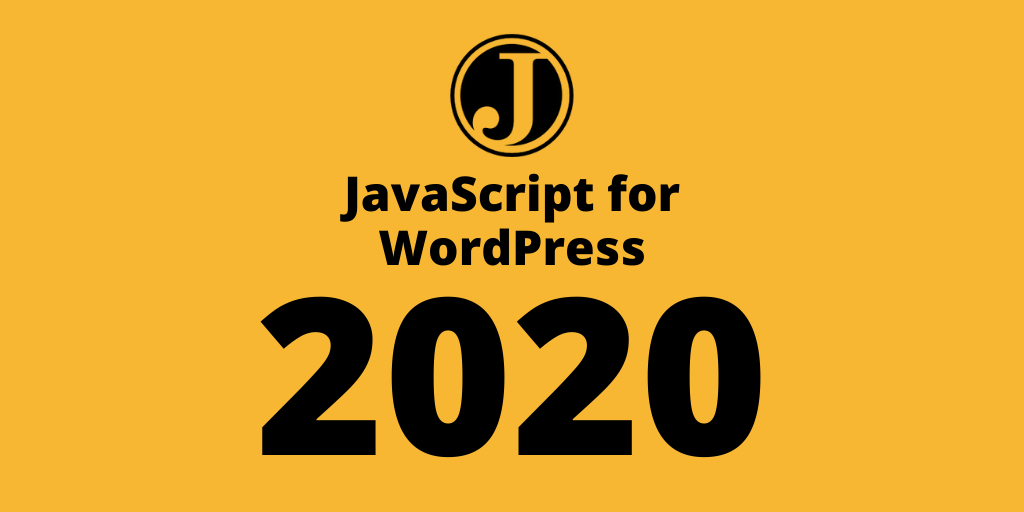 2020 is going to be a great year. I am feeling a great vibe for the growth of society overall and am excited for what is coming. This includes happenings at JavaScript for WordPress. We have some big changes!
More Bootcamps
Opening Platform for New Teachers!
Focus on New Speakers and MCs for Conference
More Books Coming
New Logo Design!
1. Bootcamps Continue to Grow
This year marks my 3rd year running online Bootcamps here at JS for WP. I love offering these personally because it gives me the closest thing the relationships and direct ability to help students that I had when teaching in the college and high school classroom.
Per the request of many students we have shortened the Bootcamps down to six weeks (three months or one year was a long commitment to realistically keep for many folks).
We have also focused the Bootcamps. So we now have Bootcamps on just JavaScript, just React and then one on WordPress and JavaScript. We may even focus those further with one just for Block Development and one for Headless WordPress with Gatsby.
Starting this year we are also offering Pricing Parity on Bootcamps, so folks get automatic discounts based on their country and the PPP rate.
2. Opening the Platform for New Teachers
This is the part of our 2020 plans I am most excited about. Over the last several years I have worked hard to build up the JS for WP platform with courses, Bootcamps, and tons of other content.
We already have two new teachers coming on board to do courses and over the coming year, we will have more coming as well.
This will involve a combined process of our team reaching out to potential teachers, as well looking over submissions from folks who apply directly to teach.
I will also work with each teacher to help structure the curriculum and content so we keep the same level of quality that students have come to rely on from the site and my work.
Bringing on new teachers will allow for us to keep content up to date as well as cover all the new topics folks want to learn in this space.
So, if you or someone you know want's to teach, please have them reach out here!
3. Focus on New Speakers and MCs at the JS for WP Conference
Last year we ran the second annual online JavaScript for WordPress Conference and had a great variety of speakers and MCs.
This year we plan to improve our diversity efforts even further and bring you exciting talks and insights from folks you might not have heard from before.
Building up new teachers and speakers in this space is a passion of mine and I'm excited now to have a team of folks helping with this effort.
Please subscribe to the conference updates to get more information about everything great coming!
4. More Books Coming
Last year we launched React Explained in conjunction with publisher, OS Training.
This February my second book, JavaScript Explained will hit the shelves.
React Explained will also get an update early this year to include all the fun new things happening with that library and related tools.
The "Explained" book series are great and designed much like textbooks, where you have a chapter of explanation followed by tons of practice exercises and projects that help you cement your learning. This approach is different from most technology books and one of the reasons I love working with OS Training as a publisher.
As a side note, OS Training is looking for authors, so please reach out if you are an inspiring author and would like to learn more.
5. New Logo!
When I first started this site, we had no logo, just the name.
Then we started to use a JS for WP Wapuu for a time. From there I went to using my face as the logo (which started as a joke, but stuck around for a while).
This year we worked with a designer to come up with a fresh logo that wasn't tied to a wapuu (or my face) and that visually reflected the connection between JavaScript and WordPress.
I'm really happy with the final design:

Hopefully it goes without saying, but we took inspiration from the WordPress logo and the JavaScript badge, with just the letter "J."
The new logo will help us transition into a learning platform that goes beyond my personal brand and reflects the growing number of teachers and writers we will be featuring on the site.
Have a Great 2020!
Hopefully 2020 brings you welcomed growth in your personal and professional life.
JS for WP has done a lot of growing in the last four years and we're really excited for the big changes we have for 2020 and beyond!