Workshop Announcement for New Speakers at the JS for WP Conf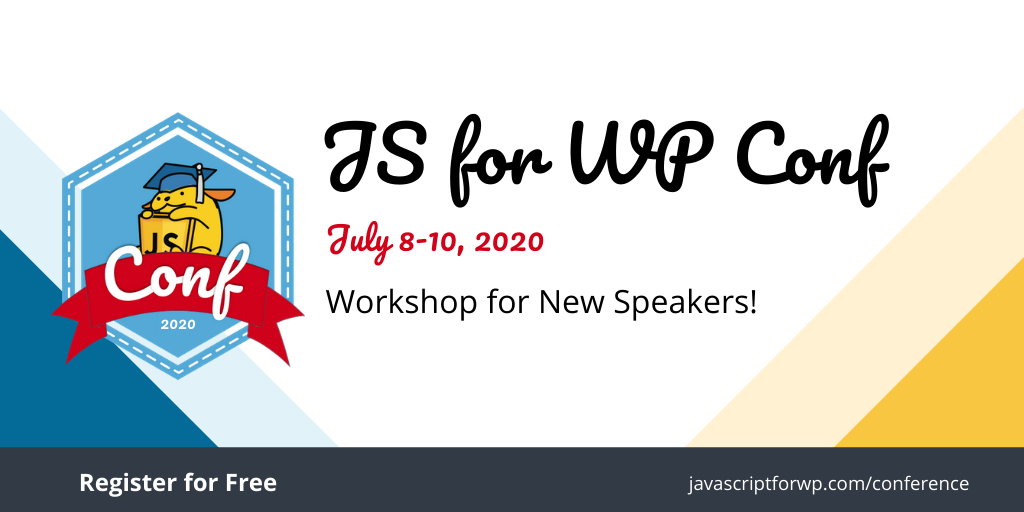 The JavaScript for WordPress Conference focuses on highlighting people from the WordPress community doing interesting and cutting edge projects with JavaScript.
Our focus for the 2020 conference is on fresh ideas and fresh voices on our two topic tracks this year: Gutenberg Development and Headless WordPress. We are actively looking for folks who come from different backgrounds, who have different journeys, and who don't all look alike, particularly those who do not feel represented traditionally well at tech conferences. We are particularly looking for more people of color, LGBTQ+ people, people who came to tech later in their careers, neurodivergent people, people with different physical abilities, people who come from less represented parts of the world, etc.
We understand though that people from underrepresented groups are more likely to let imposter syndrome stop them from applying to speak. Many potential speakers don't see people like them presented as experts. Also, due to the challenges of being marginalized, many set a much higher bar for "expert" knowledge.
We are pleased to bring you a workshop for people of underrepresented groups with various levels of experience with public speaking who have had any amount of experience with Gutenberg Development and Headless WordPress. Yes, beginner topics will be welcome as well. We will be helping people bust through imposter syndrome and develop interesting topics that will make for a great conference!


About the workshop
Jill Binder, founder of DiverseIn.tech, will lead the online training. Jill has done great work improving speaker diversity in the WordPress space. In 2018 alone, the 12 events (in six countries!) who ran Jill's workshop for WordCamps started at 10% or less for speakers from underrepresented groups, and within months, most had 50% or more.

The focus of this hands-on, online 2.5-hour workshop will be:
To understand what it takes to be a speaker and how you can add value from our virtual stage no matter if you're a beginner or expert at these techs.
To generate related topics to give a talk on. You'll have the opportunity to get immediate feedback from organizers of the conference in crafting your topic.
This workshop is a great fit for you if you've ever felt uncomfortable about speaking at events or wanted to present but found yourself thinking:
"What would I talk about?"
"I'm not an expert in anything."
"I have ideas but I'm not sure if that's what people would want to hear about."
"I have too many ideas and don't know which one to pick."
Event announcement
The workshop will be held Saturday, March 14, 2020. It is a 2.5-hour session. It will be held online via a Zoom call at 6-8:30pm UTC / 1-3:30 p.m. ET.

We are catering for accessibility, for example:
Asking participants for their pronouns if they feel comfortable sharing them
Providing a full script in advance for those who learn better by reading along with what is being said
Explaining any images in slides out loud for those who are visually impaired
Providing other accommodations upon request
Registration is now open and we would love to see you attend. If you're from an underrepresented group and have felt challenges around speaking at events, this workshop will help you to venture out with more confidence and a great topic.

Whether you are attending the workshop or you just think it sounds like a great idea, please invite someone who might benefit from the workshop. Let them know you think they have a lot to offer to the community: an individual nudge is sometimes what makes the difference between somebody stepping up to the mic or not.

Please spread the word and ask people from groups that are underrepresented in tech who have any experience with JavaScript for WordPress – particularly Gutenberg and Headless WordPress – to join us!